03/11/20
The boys and girls in room 7 have enjoyed some spooky learning experiences over the last couple of weeks. We have used Halloween as a theme for our learning.
We enjoyed exploring the Halloween sensory tray and we especially enjoyed the spider filled jelly tray, which we used to practise our fine motor skills.
We also made some lovely Halloween pictures to decorate our classroom and we enjoyed making some spooky ghost biscuits.
We used our measuring skills to make our own edible slime, which smelled surprisingly nice thanks to the raspberry jelly powder!
Our primary 7s created a superb Halloween experience in the woods, which we absolutely loved.
We have been revising the Makaton signs for 'hungry' and 'thirsty' and we have been continuing to develop the use of PECS within the classroom.
The children are building lovely relationships with each other and they are playing very well together and sharing resources within the classroom and the playground.
Here are some pictures of all of the fun things we enjoyed!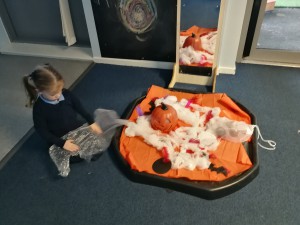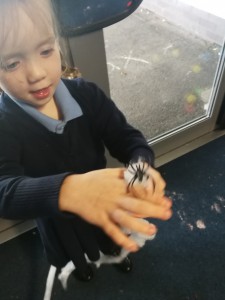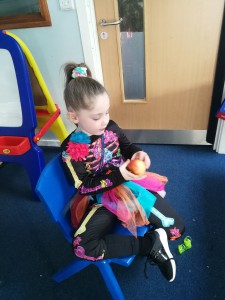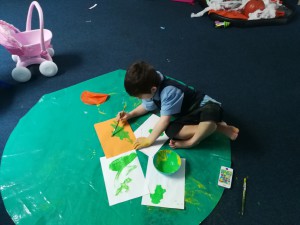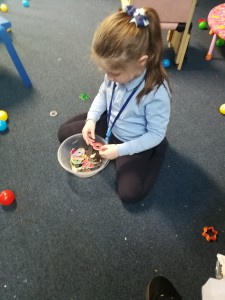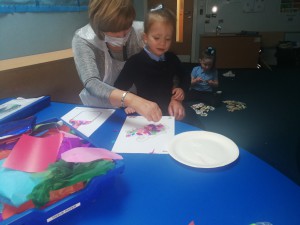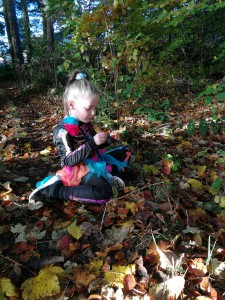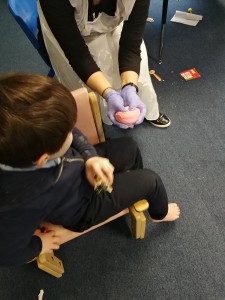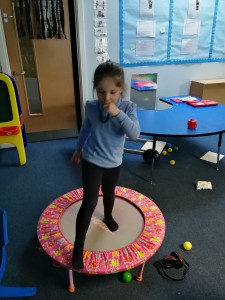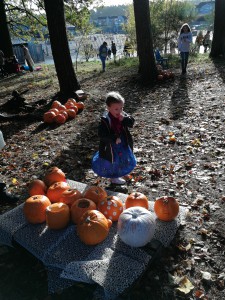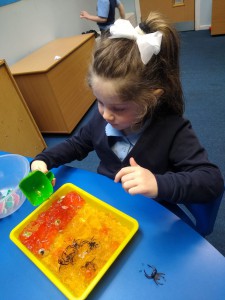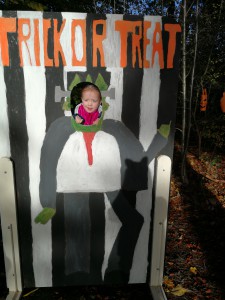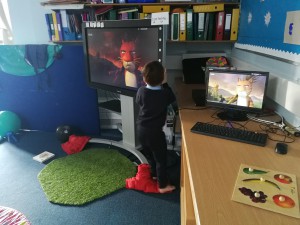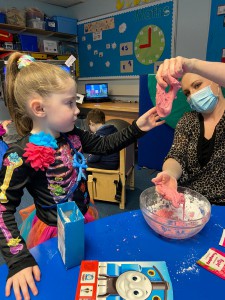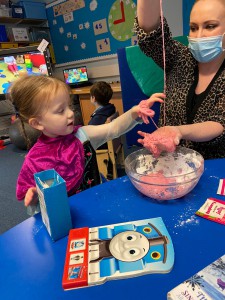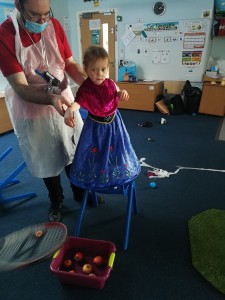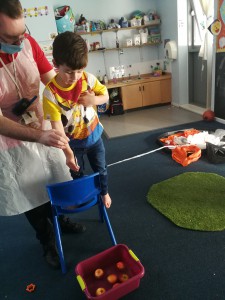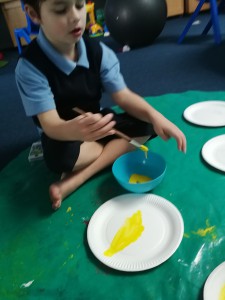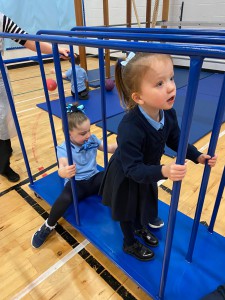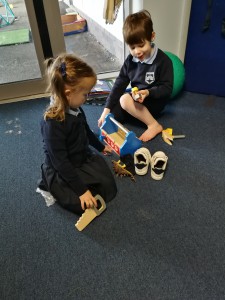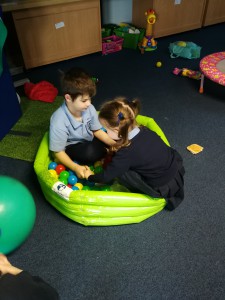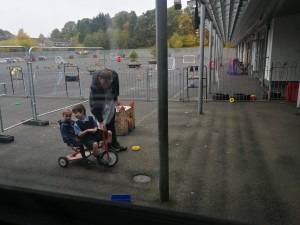 07/10/20
Room 7 have been very busy over the last few weeks. We have enjoyed taking part in The Very Hungry Caterpillar sensory story and we used some of the foods from the story to make our very own caterpillars.
We have been learning about numbers through sensory play, using paints and number sponges to print. We also made our own playdough to form the letters 1-5.
The boys and girls have started learning more about autumn through sensory play and exploration of natural materials.
We enjoyed exploring the turf tray, with lots of different coloured leaves, twigs and pine cones.  We also liked the green and red filled gloves, which felt really squishy.
We are using the autumn colours for painting and creating different types of art for our display wall. We will share a picture of our wonderful work when our wall is complete.
We have also been developing our play skills and we have been focusing on sharing space and resources.
Finally we have been using chalk for mark making in the playground. We used the chalk to draw some emotion faces, practise our names and to draw a beautiful rainbow.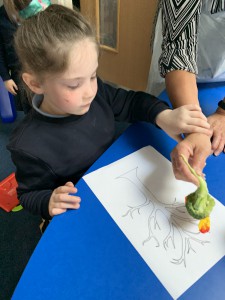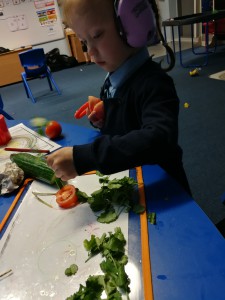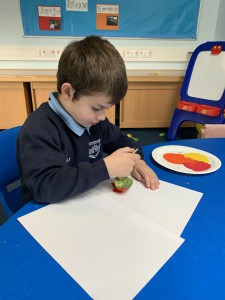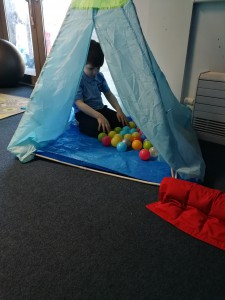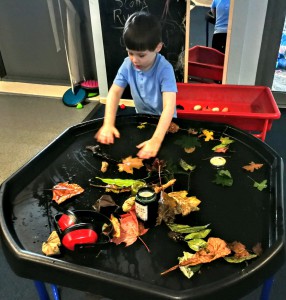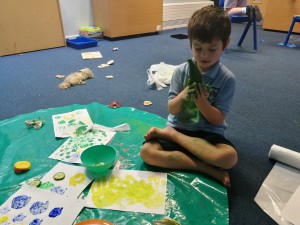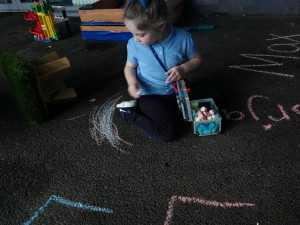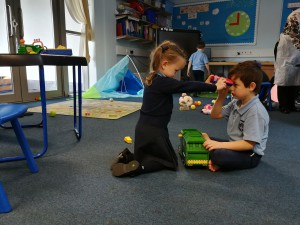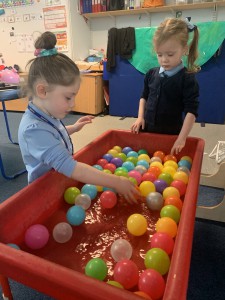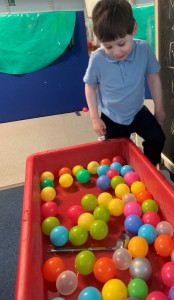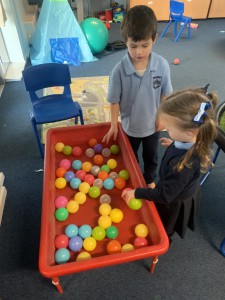 16/09/20
This week we took part in the Virtual Kilt Walk event organised by our primary 7 children. We had a lot of fun and we even managed to cycle part of the way too.
We have also been exploring some new textures with our turf tray. We have some artificial grass in there this week and we set up 'Old MacDonald's Farm' with all of the animals. We really enjoyed this theme and especially loved the noisy tractor!
We have been practising our measuring and mixing skills this week, by making some playdough. We really enjoyed this messy task and the classroom needed a good clean up afterwards. 😊
10/09/20
Hello there!
We have had another super week in room 7. This week we have been learning how to use the Makaton sign for 'more'. The adults are helping us to recognise this sign by using it in our play and throughout our daily routines.
The children have also been exploring some of the construction materials and they have been using their creative skills to build different structures and then knock them down!
We used the playdoh and the cookie cutters to make lots of different shapes, while also working on fine motor skills, to mould the playdoh into the letters of our name.
We are also practising using different photograph visuals to identify different areas of the school. For the Primary 2 children who have already used these visuals last year, this is a recap of identifying the different areas using the photo, to help develop communication and understanding of where we are going, when we move around for transitions. For the Primary 1 children, this will help them to familiarise their routine with the different areas of the school that we visit throughout the week.
Finally. we have been enjoying using our CTOUCH and ipad to explore different technologies as part of our ICT programme.
Term 1 2020/2021
Hello there and thank you for visiting Room 7's Class Page!
We have been very busy over the last few weeks, settling back into school life. We are loving our new class and our new routine.
We will try to update our page to let you know about what we have been learning in the class and we will include some fun photos and videos of our learning in school.
For the first couple of weeks we have been practising our new routine. We are doing so well with all of our transitions and we are all enjoying the extra sensory gym sessions that we have just now.
We are also doing very well at coming together to say good morning at our Hello Group, where we are learning to find our picture and name on the CTOUCH, while using the sign for good morning, to greet our friends.
We have just had our first fire drill and the staff were so proud of all of the children in Room 7, who did a fantastic job of leaving the class safely and returning to the class when the drill was over.
Here are some pictures of some of the fun that we have been having. More to follow soon……